---
Leaders are readers
LISTEN TO THE AUDIO VERSION: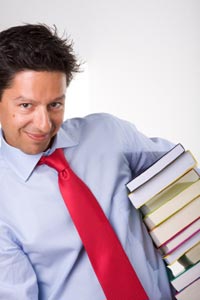 It's ABSURD to think you can succeed in SFI if you're not visiting the SFI Affiliate Center at least once a day and reading the latest information and updates. EVERY DAY, at the very least, you should be reviewing the Building Blocks on your SFI homepage (News, SFI University, Achievements, Build, Connect, and Spotlight). You should also be reading the latests posts on the SFI Forum. If you're not reading all or most of these things, you are clearly NOT serious about SFI and you will therefore not succeed.
Tip: I post multiple times at the SFI Forum almost every day, including weekends. By reading my posts, you'll gain a LOT of insights into the direction of the company. You can easily follow all my postings by clicking the "Follow" icon behind my name and then using the Follow monitoring feature of the Forum.
But don't stop with the SFI Affiliate Center. Go out on the Web every day and subscribe to marketing newsletters, read business blogs, etc. There's an absolute wealth of information out there, much of it now 100% free thanks to the Internet. And, of course, there are books galore that will allow you to run circles around the non-readers of the world.
Everything you need for your better future and success has already been written. Go out and get it...and read it. It's one of the easiest ways to climb the ladder of success.
"If you are not willing to learn, no one can help you! If you are determined to learn, no one can stop you!"
-Zig Ziglar

"Learning is the beginning of wealth. Searching and learning is where the miracle process all begins. The great breakthrough in your life comes when you realize it that you can learn anything you need to learn to accomplish any goal that you set for yourself. This means there are no limits on what you can be, have or do."
-Albert Einstein

"If you want to be truly successful invest in yourself to get the knowledge you need to find your unique factor. When you find it and focus on it and persevere your success will blossom."
-Sidney Madwe